0.0 oz
Regular price
Sale price
$15.00 USD
Unit price
per
Sale
Sold out
Share
Fire Cider's origin began five decades ago as an experiment fostering immune function using apple cider vinegar and honey to extract the goodness of onions, garlic, ginger, and horseradish root. The result aided leg cramps, stuffy nose, digestion issues, fevers, exhaustion, and fungal infections. While those main ingredients still create the essence of Fire Cider, the recipe of each person who makes it becomes personalized. KL Landing's love of citrus, garlic, hot peppes, elderberries, and particular herbs, creates a tart, zesty, spicy, and sweet cider with an after burn.  A diverse tonic  intended for optimal health! 
Available in 12 ($15) and 16-ounce ($20) flip-top glass bottles.
NOT AVAILABLE FOR SHIPPING!
Ingredients
APPLE CIDER VINEGAR with the MOTHER- improves digestion and immune systems (by balancing friendly bacteria in the body,) skin, and nail health supports the immune system, lowers blood sugar levels, improves heart health,
DRIED CHILI FLAKES- boosts metabolism, decreases hunger pain, and fights prostate cancer.
DRIED ELDERBERRIES- aids chronic fatigue, constipation, hay fever, headaches, high cholesterol, sinus infections, upper respiratory infections, ease sciatica, and toothaches,
FRESH GARLIC- protects against the common cold, and reduces tension in the cardiovascular system, which helps lower blood pressure and cholesterol levels.
FRESH GINGER ROOT- encourages healthy digestion
FRESH HARBANO PEPPERS - provides an anti-inflammatory effect, easing arthritis and headaches, increasing blood flow, beneficial to the cardiovascular system, and soothes the respiratory system. 
FRESH HORSERADISH ROOT- fights inflammations, regulates blood pressure, eliminates chest congestion, and muscle stiffness
FRESH JALAPENO PEPPERS- high in nutrients, boosting the metabolism system, supporting heart health, decreasing sickness due to antimicrobial properties, and a natural pain killer.
FRESH Myer LEMONS- heart health, prevents kidney stones, improves digestion 
SWEET ONIONS- boosts vitamin C, supports the immune system, cardiovascular system, promotes digestive health,  regulates blood sugar levels,  and decreases inflammation. 
FRESH ORANGES- fights inflammation, boosts the body's immune system, lowers blood pressure, slows age-related macular degeneration, and improves iron absorption
FRESH TURMERIC ROOT- lessens inflammation and pain, lowers heart disease, protects against cancer, aids digestion, improves memory, and stimulates the action of other antioxidants.
ORGANIC, DRIED ECHINACEA AERIAL PARTS- protects the immune system, has anti-inflammatory properties, and treats skin conditions
ORGANIC, DRIED ROSEMARY- contains antioxidants and anti-inflammatory compounds, boosting the immune system and improving memory and cognition. 
PEPPERCORNS- high in antioxidants, protects against inflammation, premature aging, heart disease, and certain cancers, improves brain function,
RAW WILDFLOWER HONEY- a rich source of antioxidants, boosting immune health and protecting against cell damage. Contains antibacterial, antifungal, antiviral, and anti-inflammatory properties. Improves brain function and balances digestive issues.
Two sizes available: 12-ounce and 16-ounce glass bottles
DIRECTIONS: Take a teaspoon or shot-glass size every day! Cheers to good health!
View full details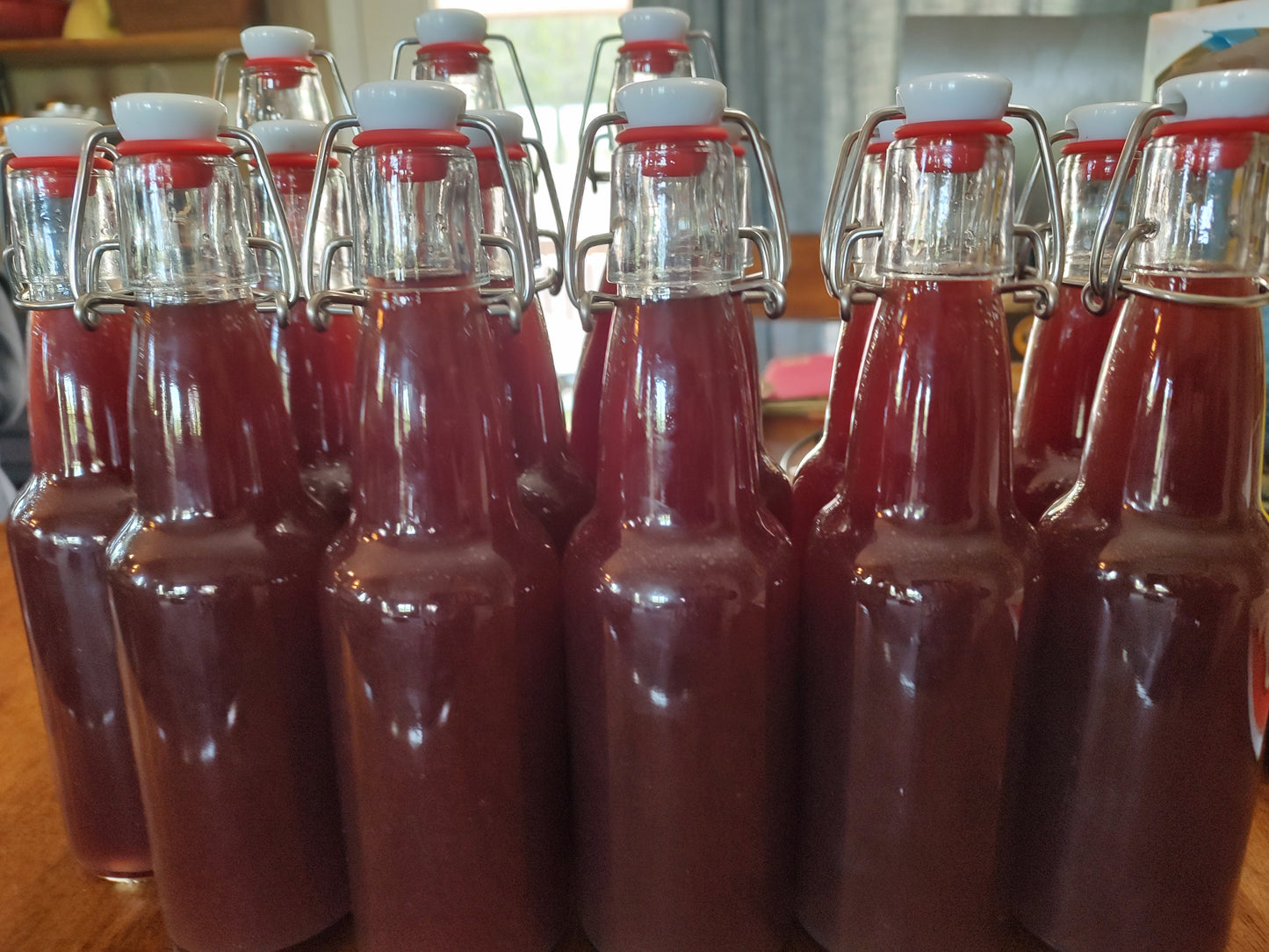 Shipping

Shipping costs will added at checkout and based on the weight/quantity of items in the purchase, as well as the shipping destination.

Refunds

If a jar is broken during transit, a replacement will be provided with no charge, provided photographic evidence of the damage is submitted.